The vehicle and asset fleet management platform that increases productivity and profitability through monitoring and planning of tasks and activities.
Geombo is a platform focused on optimising fleet management, which, in addition to the monitoring and geolocation of vehicles and assets, allows monitoring and management of the tasks and activities generated by those vehicles or assets. How? Through two types of task.
Geombo Tasks is the service manager that complements the GPS location. Through an agreement with Garmin, Geombo Tasks allows you to register activities and associate the tasks with a form. For example, the forms linked to refuelling tasks, in which the employee manually fills in the information on the price of the fuel, or, for taxi drivers, in which the integration with the Garmin browser allows them to record how many services they have performed, the type of journey, etc.
Adapting to each case, Geombo Task allows parameterisation of the platform to automate processes in order to save costs and improve results.
Geombo offers a web environment or desktop BackOffice, which allows viewing of the location in real time; management and control of vehicles and assets; control, management and visualisation of scheduled and performed routes; and a report designer with automatic notification delivery system.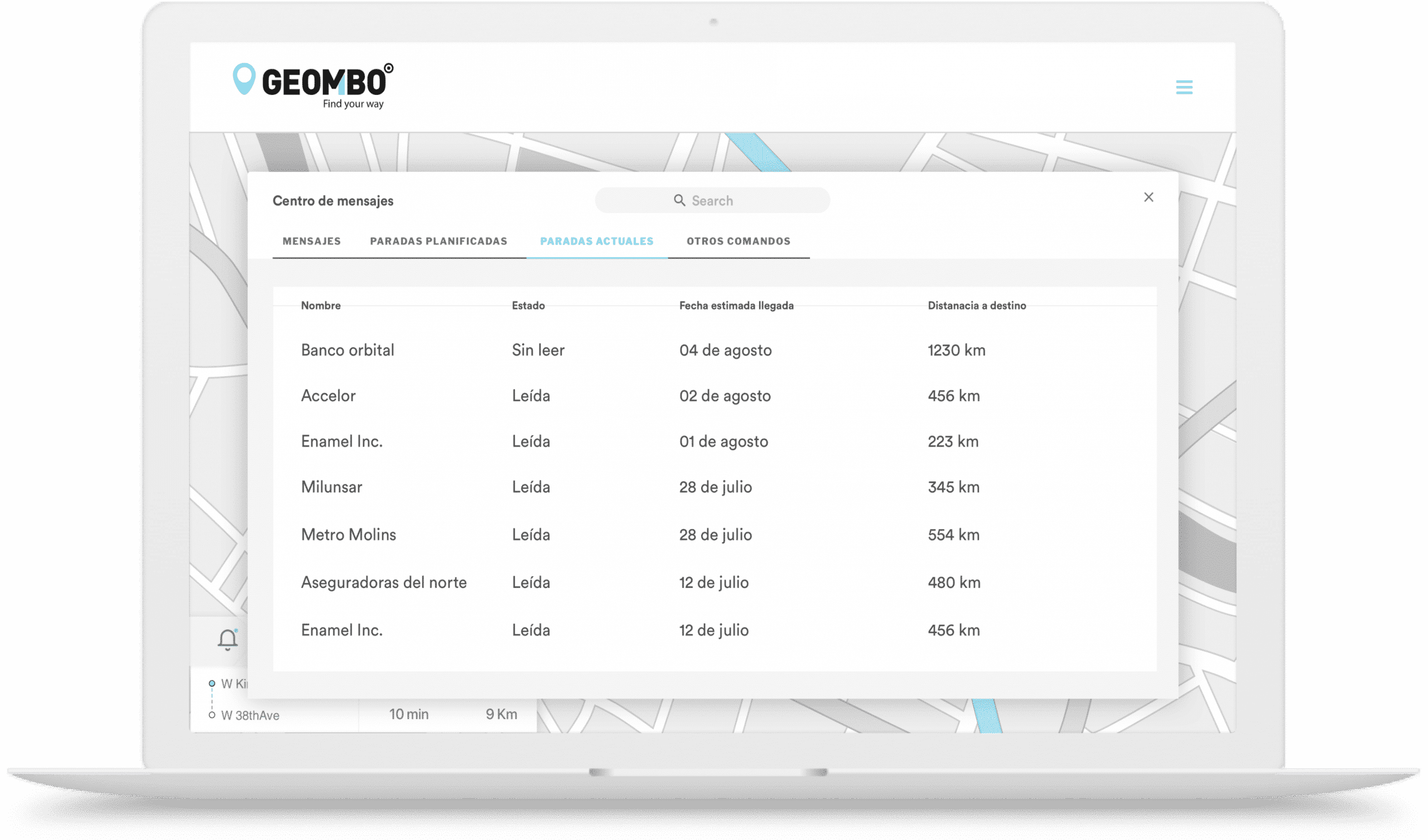 Through the on-board screen, the platform provides real-time communication with the driver or operator of the vehicle (receive pop-up messages or view the list of stops) and Gembo Tasks allows recording and control of tasks in an independent way in situ, through the forms and checklist previously configured from the BackOffice.
Via the web environment, within a fleet of vehicles the user can control the maintenance, repairs or incidents that the vehicles have suffered or, in the case of employees, work reports, and signatures on order delivery notes for delivery companies.
Emergency vehicles: paramedics, firefighters, etc.
Urban cleaning. Management of urban solid waste collection (sweeping machines, cleaning mopeds, collection trucks, container washers, etc.), detection of the filling level of containers, location of containers.
Long distance transportation. Road transport, location and filling of tanker trucks, tire pressure control.
Machinery. Indoor location and forklift management.
Building. Location and management of hours in cranes, construction containers.
Other. Management of taxis, delivery services
Geombo integrates with numerous devices to achieve sensorisation that allows asset activity to be monitored and has a large number of approved devices for the correct operation of the platform and the vehicle or asset. Geombo integrates with new location devices, new solutions, and third party software.

Fleet and asset management platform 
Optimise management and improve results