Analogy between The Walking Dead and the process of developing a mobile app
The picture was taken in the first rows of Arenal Sound 2014, the most mass music festival of Spain, with a twentyish public profile, during The Royal Concept concert. But we would agree that we could find the same scenery, perhaps without much frenzy, with people from all ages and in different situations, in the subway, in the bus stop, in the doctor's waiting room, in the terrace of a café and even on the beach. With a common denominator: the smartphone or the tablet as a new and almost almighty communication channel.
Nobody argues about it anymore: the mobile devices changed our lives and our way of mixing with each other from how it used to be, making us depend on them. We're living dead, but the tendency to mediocrity makes us find similarities with the behavior of the characters and the plot of The Walking Dead, the AMC show, that catches us so much. Let's take aside the bloody and post-apocalyptic touch and delve into the robotic behavior of the zombies.
The analogy between the disturbing show and this worrying mobile-dependency is extended to the process of creating applications that give content to this new zombie world. Because we live in an out-of-control expansion of the use of mobile devices and apps that gets more profitable with time; which in many ways make our lives easier, but at the same time, atrophy progressively some of our skills.
This thing that drives us to check Whatsapp, unconsciously and sometimes in a spasmodic way, and leads us to invest in the development of an app without previously thinking what problem it is going to solve or what needs it is going to satisfy; regardless of the more than 1.3 million apps in Google Play and 1.2 million in App Store, but meanwhile, there are no more than 40 apps in Spanish devices and the ones frequently used can be count on the fingers of one hand. This zombie behavior that makes us look like the infected in The Walking Dead. We got to the extent of talking about "mobile junkies" and technological rehab centers under the slogan of "disconnect to reconnect".
The show's dialectics of sane vs. dead replicates in the use of mobile apps technology: natives (like the character Carl Grimes) vs. immigrants, with different ways to embrace change. There are some who transform rapidly adapting themselves to the new zombie world (Daryl Dixon), others who resist and show rebellion and denial (Tyreese), and few who take the lead (Sheriff Rick Grimes). In between, there are very human reactions, ranging from aggressiveness to wisdom (Hershel Greene). Anyway, this moment requires solidarity, loyalty, and intimacy: together we survive; alone, we are doomed to lose the battle.
If we apply these roles to the development of apps, we can find then similar reactions. Since the moment the application is conceived until we begin to use it on our mobile phones or tablets, there is a process in which, if we don't ask and answer the rights questions, it's easy to become a zombie.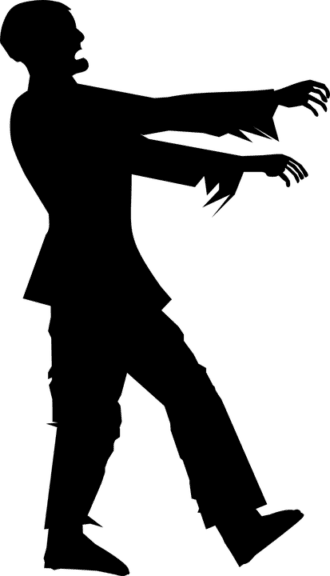 – Problem/target. In what way will our application bring benefit?
– Study. What apps already in use do the same thing or something similar? In what way it is different than ours? Who will use it?
– Concept. Our app will be this way.
– Analysis. What technology do we use to get the functionalities we aim to?
– Design. How will our app look like?
– Programming. The manufacture.
– Test. Trial and error until it becomes perfect.
– Launch. "Hi everybody, this is our app and you're going to need it".
– Advertising. ASO, marketing, communication.
– Management. What do we expect? What will we do to meet our expectations?
– Evolution. Do we want a living app or a zombie one?
The programming usually monopolizes almost all the resources and efforts used for each app project. Our experience in Cuatroochenta tells us that it would be much better to distribute them in a more equable way among all process steps. The programming tends to be an excessively strengthened function and cannibalizes resources of any project, while design and launch are impaired functions, however, they are crucial to the success of any app.
Focus and knowledge are needed for the apps to adapt more to their environment and have more potential. It depends on how we invest in time and money; it depends on the renown we get when we publish the app; it depends on our patience and faith in the app, this is how we'll avoid ending in a zombie app, for zombie clients, inside a zombie ecosystem, and programmed by zombie developers. Finally, all of us, development companies, customers, and end users, are all responsible of avoiding the spread of mediocrity.
How can we fight the mediocrity virus while developing apps?
Like in The Walking Dead, there is no miracle cure, you can only apply prevention: analysis, anticipation, creativity, leadership, union, distinction, defense, and attack. Besides using very well these tools, what counts most is the value of all and each person involved in this process.
*An article based on a talk given under the same title by Alfredo R. Cebrián, CEO of Cuatroochenta, in Matadero Madrid during el Zincshower 2015.