Digital cloud and cybersecurity solutions

to meet your organisation's challenges
About Cuatroochenta
Cuatroochenta is a technology company that specialises in developing and implementing digital cloud and cybersecurity solutions to improve the performance of leading organisations in Spain and Latin America. Our goal is to minimise the gap between what our clients are doing and what they are capable of achieving
Cuatroochenta has become a solvent technological partner for implementing digital transformation with the most powerful management and cybersecurity solutions. An omnichannel service that suits the needs of each organisation with a philosophy based on placing technology at the service of people since it was created in 2011.
Cuatroochenta focuses on providing high added value thanks to specialisation, team involvement and real collaboration with the client, based on business vision, advanced technical capabilities and a high level of design, reliability and experience. Our most outstanding results are provided in terms of customer or user improvement, process optimisation, cost reduction and enhanced efficiency in sectors such as mobility, health, facility services, retail, real estate, banking, industrial, tourism, education and culture.
A way of working and a type of service connecting with all types of organisations of any size, but especially with family businesses that are committed to transformation, Our 200-strong team is determined to help you succeed.
---
Business units
2.
Business management software
Experts in Dynamics 365 Business Central and Power Platform as a Microsoft Gold Partner for the exploitation and visualisation of data for enhanced business intelligence. With 45 years of experience and vertical ERP solutions for sectors such as textile, distribution, industrial and services.
Customised Development
We provide the most advanced technology to support the needs of our clients through multidisciplinary teams and a continuous development methodology focused on the objectives.
200 employees
Offices in Castelló (headquarters), Barcelona, Burgos, Madrid, Bogotá, Panama, Santo Domingo, Santiago de Chile and Costa Rica.
Multidisciplinary team.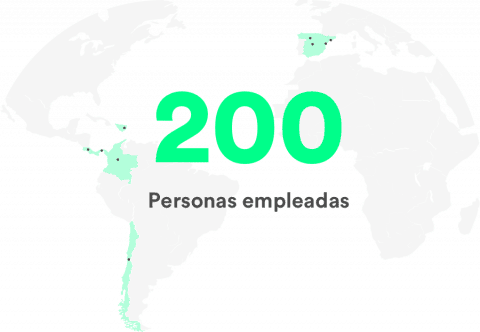 Social impact
Cuatroochenta promotes and participates in various initiatives that recognise and offset the impact of technology on society, as well as contributing to an ecosystem of innovation and training in our environment. One of the most recognised is our #EnModoAvion, talks, an itinerant cycle of informative talks broadcast via streaming.
Partner of Comunitat Valenciana Digital District
Innovative company certificate in BLOCKPCT
Vodafone implements CheckingPlan in IFEMA (Madrid)
Spanish Top 20 'Agency of the year'
#EnModoAvión on smart cities in Valencia
Butech calculator (Porcelanosa)
Ariadna, Constantes y Vitales Award & MWC
Sareb renews with CheckingPlan
Acquisition Asintec y Sofistic
Rithmi tests its algorithm using Garmin® wearables
Technological solutions for smart cities
Innovation and Entrepreneur award – Economía 3
Eulen launches telecare app 'Acércate'
Aquarama grows and renews their alliance
Ariadna, finalist for Best App in Health and Well-being at TheAwards
#EnModoAvión talk about eHealth in Madrid
Manual about apps and 480>Files
Defibrillators map in app format
#EnModoAvión talk on foodtech in Zaragoza
Spanish Society of Cardiology
Mobile World Congress Barcelona
Immersion Programme in Silicon Valley
Mobile World Congress Shanghai
Citi Mobile Challenge Latam
Universitat Jaume I prize
---
Mission, vision and values
Mission
Through first-class services, we provide knowledge & development and we implement digital cloud and cybersecurity solutions, meeting our clients' strategic needs and positioning ourselves as their trusted provider in terms of technological development.
Vision
An exceptional company, based on profitability, quality and responsibility improving the results of organisations (our clients), and people's lives (our users).
Values
Trust
Trust is the pillar of our company: We always trust each other as a team first of all so we can extend this trust towards our clients and partners.
Continuous improvement
Continuous improvement as a means to increase competitiveness: we constantly investigate how we operate to look for opportunities and areas for improvement
Transparency
A transparent company means a reliable company: transparency, both internal and external, enables the development of the company and employees' interests and motivations
Customer experience
Our goal is to provide satisfaction to the customers around us, ensuring they remember us and will convey positive messages about our organisation
Great Place to Work®

Certified

2021

Sapiens Company Award 2021

Colegio Oficial de Ingeniería Informática de la Comunidad Valenciana

2012

Top 20 in Spain. Agency of the year

Ad World Masters

2021

Incorporation of Cuatroochenta to BME Growth

Bolsas y Mercados Españoles

2020

Rafael López Lita Award for Good Communication Practices in the Covid-19 crisis

adComunica

2020

Great Place to Work®

Certified

2020

Top 20 in Spain. Agency of the year

Ad World Masters

2020

Innovation and Entrepreneurship Award

Economía 3

2019

Castellón SME of the Year Award

Cámara de Comercio de España y Grupo Santander

2018

European Digital News Initiative (DNI) program Award

Google con el Grupo Zeta

2017

Selected for the first Pre-Market Environment program

Bolsas y Mercados Españoles (BME) y Asociación Big Ban Angels

2017

Selected for the Spanish Pavilion at the Mobile World Congress in Barcelona

2017

Selected for the Silicon Valley Immersion Program

Spain Tech Center del ICEX

2016

Selected to participate in the Mobile World Congress in Shanghai

Ministerio de Industria

2016

Job Creation Award

Club de Recursos Humanos de Castellón

2017

Internet and New Technologies Award

Onda Cero Castellón

2016

Innovative Company Award of the Valencian Community for Business Trajectory

CEEI-IVACE

2015

CEEI Castellón Award

CEEI-IVACE

2015

XVIII Bancaja Young Entrepreneurs Award

Bancaja

2012

V Award for the Student Entrepreneurial Initiative of the Social Council

Universitat Jaume I

2012

Young entrepreneurs Award

Cope Castellón

2012

Science Award Radio Castellón

Radio Castellón-Cadena SER

2011