An app that streamlines and expands the shopping experience in a large supermarket chain; it integrates the loyalty card in the smartphone, it offers the possibility of saving the shopping list, consulting recipes and keeping abreast of the special offers.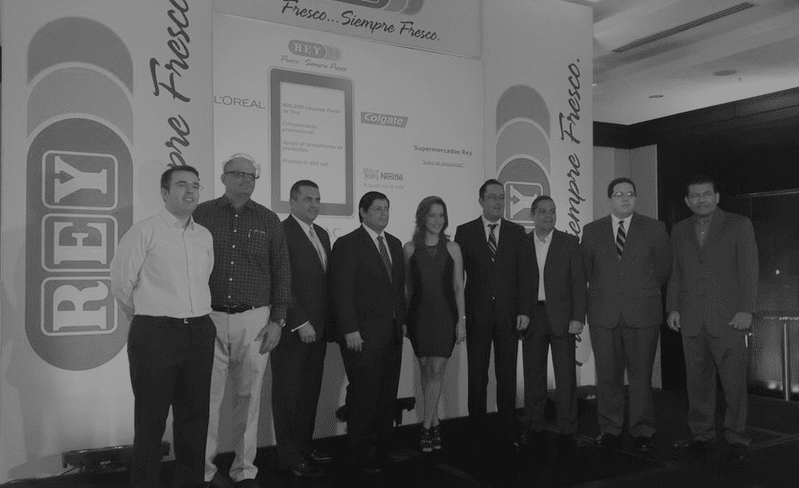 Cuatroochenta has developed the mobile application for Rey Supermarkets, leading company of the sector in Panama, which has 25 centers. The application is now available for free on Google Play for Android and App Store for iOS. In its public presentation, the commercial vice president of Rey Group (Igor kanelopulos) compared it to the qualitative leap lived by the group 15 years ago when they launched the loyalty card -Punto de Oro- since this is the first app in this sector in the Central American country.
With the app of Rey Supermarkets you can consult your loyalty balance and the catalog of exchangeable products of the loyalty card Punto de Oro, with nearly 800 thousand users. You can also create a shopping list to plan your meals and the household needs, know the products before you buy them, consult cooking suggestions with instructions and ingredients (which you can add to the shopping list), learn from the best deals or locate the closest center of the Panamanian chain.
Under the slogan "Fresh...always fresh", with the app Rey Supermarkets aims to deepen in their first goal since it was born in 1908 with a small grocery in Columbus city: customer satisfaction. But also with another hallmark of the brand in recent decades: 'Fifteen years ago we innovated with the first loyalty program in Panama, Punto de Oro, and now we do so with the first mobile application. Innovation is a basic premise for Rey Group, so we work closely with experts in each area to ensure that we are always at the forefront. We want our customers to find not only fresh products but also innovation in all aspects of their shopping experience', explained Igor Kanelopulos at the presentation of the app. The event was also leaded by Cesar Tauste, CEO of Cuatroochenta Latam, and managers of the chain, at a downtown hotel in Panama City, which was also attended by some media.