The Iproma Live app is a Cuatroochenta development for the Eurofins Group Comany Iproma.
A Spanish benchmark in water analysis and industrial hygiene, its clients include companies and institutions such as Repsol, Porcelanosa, Nestlé, Abengoa, FCC, Iberdrola, Augas de Galicia, the Generalitat Valenciana or the Ministry of Agriculture, Food and Environment. The application was created with the aim of streamlining and personalising communication and service management with customers.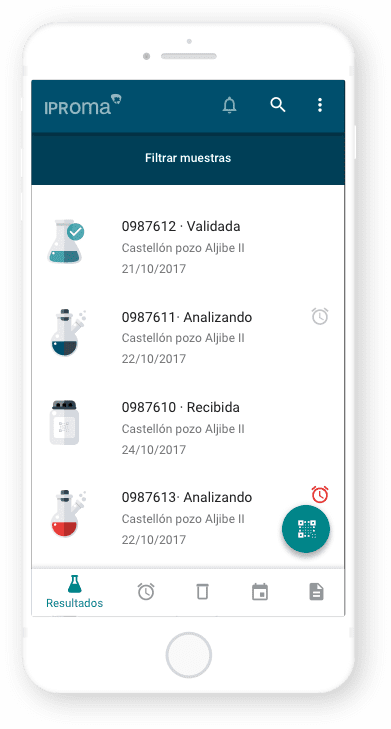 Iproma Live, which is available for both Android and iOS, allows the user to find out the results of water analyses conveniently, in real time and to consult the evolution of the data, access documentation of interest and create specific alerts. The great value of this app lies in the fact that it adapts 100% to the needs of the companies and individuals who contract Iproma's services, offering them useful, immediate and totally personalised information.
Simplicity and agility
Its use is characterised by its simplicity and agility. The customer only has to order a container for a specific type of analysis and the company sends them a QR code with which they can track the sample through the app. During the analysis of the sample in Iproma's laboratories, the client remains informed at all times of its status through the app, which is constantly updated in real time; receiving notifications of the moment the sample is received, its analysis and validation. Once the sample analysis is complete, the Iproma Live user will receive a notification with the results of the samples, which can be downloaded to their mobile phone.
With Iproma Live clients can
1. Consult the evolution of the sample data immediately.
2. Create customised notifications on the results of one or several parameters of the same sample.
3. Receive warnings in the event that the associated sample presents any incident.
4. Export and share sample results.
5. Access to Iproma's online customer service.